The contrast between salty gorgonzola and sweet pears makes for a mouthwatering combination. Crunchy bits of walnut go well with the creamy risotto. It is simple yet elegant and can be prepared in just half an hour (if you have broth on hand). It's great for a weeknight dinner and fancy enough for guests.
Originally this recipe came from an old "Brigitte" (a german womens magazine) that was published in 1994 (!). I have made it many times over the years and tweaked it to my liking.
Serve with a light white wine from the Kaiserstuhl.
Warum ist dieser Beitrag auf Englisch?  Und hier die Umrechnungshilfen

serves 4, vegetarian
1    leek, dark green parts trimmed and finely diced
60    grams butter
350    grams arborio rice
1/4    liter white dry vermouth or wine
3    ripe but firm pears, 1 thinly sliced, the other 2 peeled and cubed (about 1,5 cm )
200    grams gorgonzola cheese, without rind, cubed same size as the pear
1    liter vegetable broth (this one for example)
salt and freshly ground pepper to taste
2    tablespoons freshly toasted walnut halves*, crumbled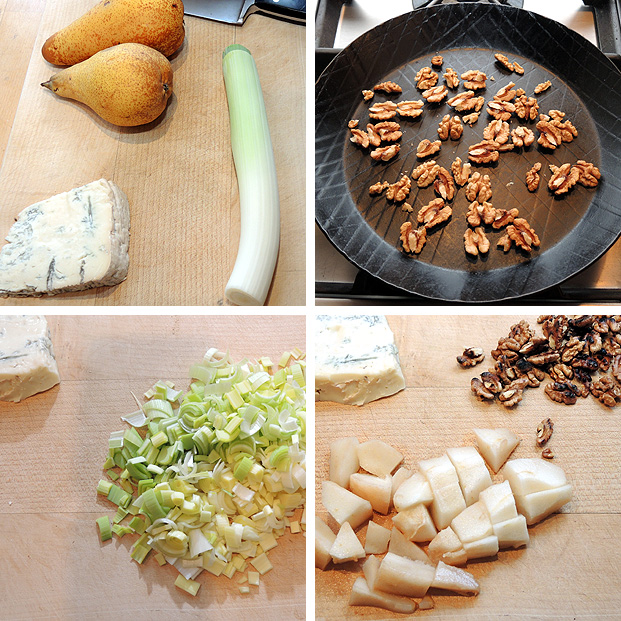 Sauté the diced leek in one tablespoon butter until softened. Add the rice and sauté until coated with the leek mixture. Add the vermouth/wine and while stirring let it evaporate over medium high heat. Meanwhile in a separate pot heat the vegetable stock. Add the cubed pear pieces and one to two ladles of broth to the rice and stir well.
In the meantime toast your walnut halves , see below *
Continue to add broth whenever the liquid starts to be absorbed by the rice ( approximately 20 minutes). Five minutes before the rice is done add the cubed gorgonzola cheese (reserving 4 pieces for decoration later) and stir to combine, somewhat melting it into the rice. Taste the seasoning and adjust as necessary.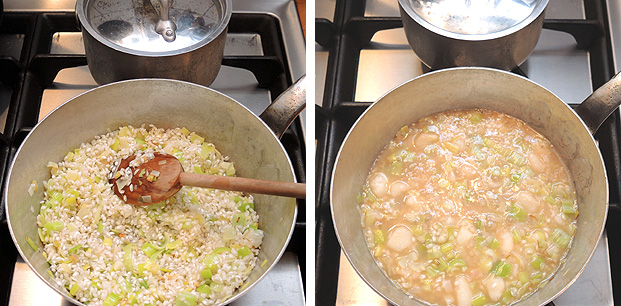 At the end add the remaining butter in small pieces and let the rice rest covered and off the heat for 5 minutes. Serve in bowls, decorated with the pear slices and the crumbleded walnut pieces. Grind fresh pepper over it.
* To toast walnut halves I use an iron pan without any oil or fat. Heat it well, add the walnuts and stir continously until the walnuts have browned lightly. Remove from pan and let cool before breaking them into smaller pieces with your hands, set aside until needed.