The city of Cincinnati in southern Ohio is populated with chili parlors. In fact, there is one on nearly every street corner in some business districts. Most of them stay open late and are frequented by college students at all hours.
The philosophy of serving at a chili parlor is to prepare the food in view of the customer followed by immediate serving. This dish should be prepared and presented in the spirit of the original.
The chili is very easy to make and can be doubled to feed a crowd. You can adjust the spicyness by using more (or less) of the chili powder, in Cincinnati they serve it usually not very spicy (see my note below). Cincinnati style chili is most often served over spaghetti with additional toppings as desired. A coney island is made with a chili topped wiener and a coney bun and represents another classic style.
The chili freezes well and for me it's the ultimate comfort food on a cold winter night. Just boil some pasta and you're all set.
And now for my German readers:
Bei Umrechnungsproblemen in deutsche Masseinheiten bitte hier schauen.

Serves 6-8
1    quart beef broth
2    pound ground beef
1    large onion, finely diced
1-4    tablespoons chili powder, as desired*
1    teaspoon cinnamon
1    teaspoon cumin, ground
1/2    teaspoon Worcestershire sauce
1    teaspoon allspice
2    tablespoons cider vinegar
2    cloves garlic, through the press
1    teaspoon pepper, fresh ground
3    bay leaves
2    teaspoons salt
1    12-ounce can tomato sauce
1/2    ounce unsweetened chocolate
1 1/2    pound spaghetti
1    cup mild cheddar cheese, grated
Oyster Crackers, on the side, in a small round porcelain dish.
Our recipe has the following hand written note on it: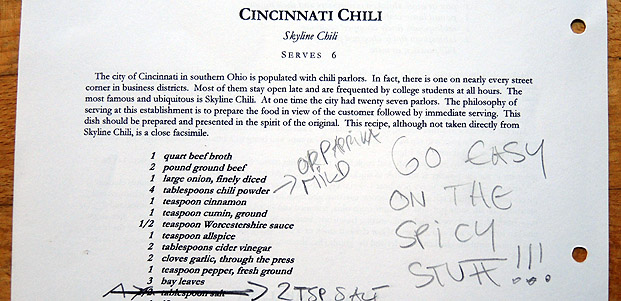 Decide for yourself what to make of it, I adjusted the original recipe to say 1-4 Tbsp.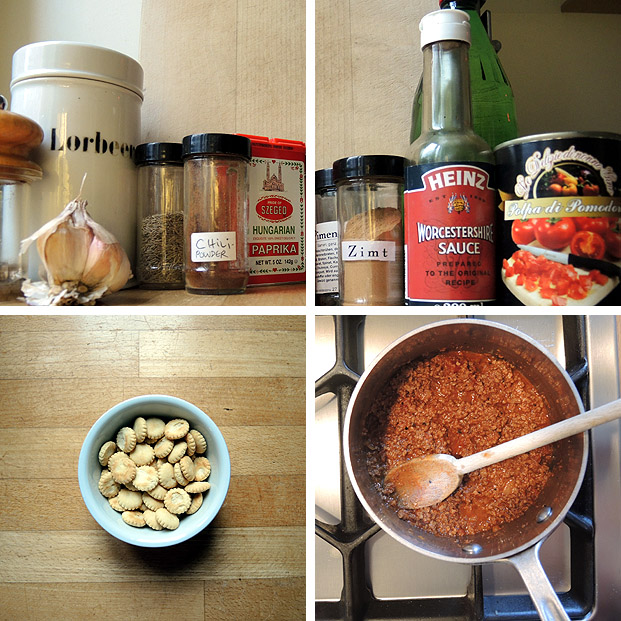 In a large pot bring the beef broth to a boil. Add the ground beef and break up any clumps first with your hands then with a wooden spoon on the side of the pot. Bring everything back to a boil and turn heat down to a simmer. Add the spices, vinegar, chocolate and tomatos and simmer for a minimum of three and up to to five hours. Replace liquid as needed with some more broth if you have it, or just plain water.
Towards the end of the cooking time, boil the pasta in abundant salted water. Just this once you should cook the spaghetti past the al dente stage. This way it will be easier to spread flat on the  plate. Drain and place an even layer about one inch thick on an oval serving plate (that would be classic chili parlor, a round one works fine). Do not form a mount, rather flatten the pasta into a thin layer. Then spread the chili in a 2 inch stripe on top of the pasta bed and cover with grated cheese and more of the optional toppings as desired.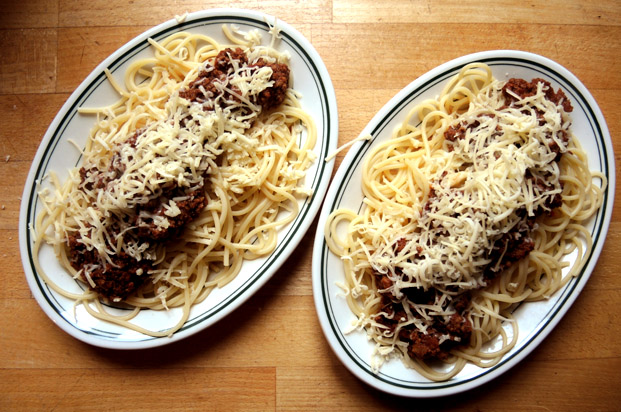 Following the classic chili parlor tradition, these serving combinations are possible:
a 2-way is a bed of pasta covered with chili
a 3-way adds cheese
a 4-way adds fresh chopped onions
a 5-way adds cooked navy beans
a "Coney Island" is a small frankfurter in a bun, smothered with chili and topped with chopped onions and cheese.
Always serve all of these variation with Oyster Crackers in a small porcelain dish on the side.