We first had these mussels at a harbor side restaurant in the town of Douarnenez in the Bretagne (France). The curry gives them an unusual twist, it is my favourite way to have mussels now.
Serve with baguette to mop up the sauce (must be good and crunchy, just like in France!) or with a side of oven fries like the Belgians love to do.
Warum ist dieses Rezept auf englisch?
serves 4
Ingredients
1/2 cup    minced shallots
2 tbsp    minced garlic
2 tbsp    butter
1 1/2 cups    dry white wine
1 cup    heavy cream (or half and half)
1 tsp    curry powder loosely packed, no more than that so the taste is not overpowering
4 pounds    mussels – cleaned and debearded, broken ones discarded
1/4 cup    minced flatleaf parsley
1/4 cup    chopped green onions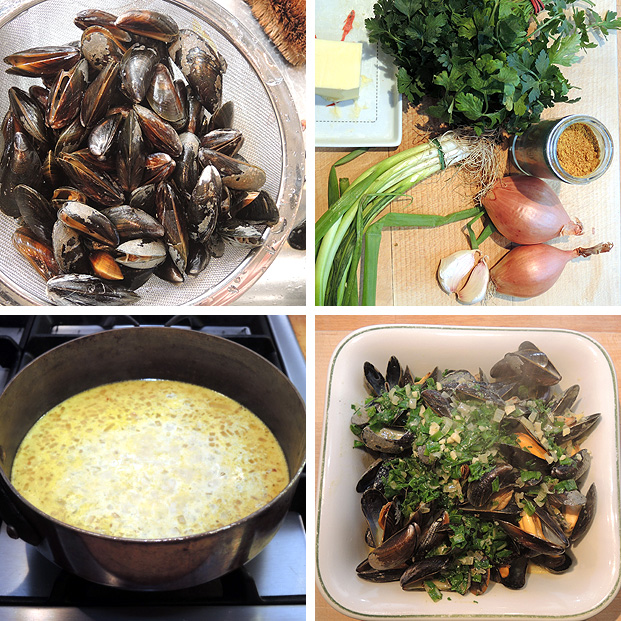 In a large saucepan, cook shallots and garlic in the melted tbsp of butter until translucent. Add the wine and continue simmering a few minutes.
Stir in cream and curry powder. When sauce is heated through, add mussels. Cover, and steam mussels for about 5-6 minutes stirring occasionally, until their shells open wide. With a slotted spoon, transfer steamed mussels to a prewarmed bowl, leaving the sauce in the pan. Discard any unopened mussels.
Stir parsley and green onions into the sauce remaining in the pot and pour over the mussels. Serve immediately with a good bagutte or oven fries.