I call them "sort of" ravioli and the are somewhat similar in that they are a filled pasta dough that is cooked in salted water. On the other hand they look nothing like ravioli, are much larger and so: no they are not ravioli – the are Maultaschen! Which translates into "mouth pockets".
A few different explanations for this funny name have been given:
A: They come from a monestary named Maulbronn, they have been invented to hide the meat during lent
B: they are small enough to fill your "Maul" (slang for mouth)
C: I'm sure there are various other explanations,…
Traditional Maultaschen are served on maundy thursday, which is the thursday before easter. They swim in a home made broth and are accompanied by swabian potato salad. Of course you can eat this loveley meal any other time of the year, as swabians do too.
They are a bit of work but well worth it and you can feed an army with them.
Why is this in english?
Zum übersetzen den Google translator rechts in der Leiste nutzen.
makes about 60 Maultaschen
for the dough:
600 g    flour
5    eggs, save one of the whites to brush the dough
1 tsp    salt
half an eggshell of cold water
3 tbsp    sunflower oil
In Germany you can buy premade dough, usually of pretty good quality. That saves some time in the Maultschen making process… if you live in Germany try it. It is however a lot of fun making them dough and all from start to finish – so get rolling that dough.
for the filling:
1/2    baguette loaf (or other white bread), day old, sliced thin, 1 cup of water for soaking
400 g    fresh spinach washed an blanched briefly (1 Minute) in salted water
3 tbsp    sunflower oil
5    medium sized onions, chopped fine
4    medium leeks, chopped into small half rings
2    bunch flat leaf parsley, chopped fine
1 kg    ground meat, a mixture of beef and pork is traditional
250 g    sausage filling, without the casings (the light colored kind, called "Bratwurstbrät" in Germany)
5    eggs
1 1/2 tbsp    salt
pepper to taste
1 tbsp    marjoram, dried or fresh
1/4 tbsp    freshly ground nutmeg
For serving:
2 l    homemade broth
4 tbsp chopped chives
swabian potato salad, recipe will follow soon
To make the dough:
make a mound of flour on your work surface and make a well in the center. Add all the other ingredients to the well and start pulling the flour from the edge towards the middle. Continue kneading the dough for about 10 minutes until a firm and pliable dough exists, if it gets too dry add a liitle more water (just a tbsp or so). Wrap the dough in foil and let it rest in the fridge for 1 hour.
Meanwhile make the filling:
soak your bread in a cup of warm water and run the softened bread and spinach together through a food mill, if don't have one, you can finely chop everthing on a large cutting board. In a good sized cast iron pan heat the oil and saute the leeks and onions on medium heat for about 15 minutes until soft. Add the parsley and saute for another 5 minutes, make sure not to brown the onions and leeks. Let cool completely.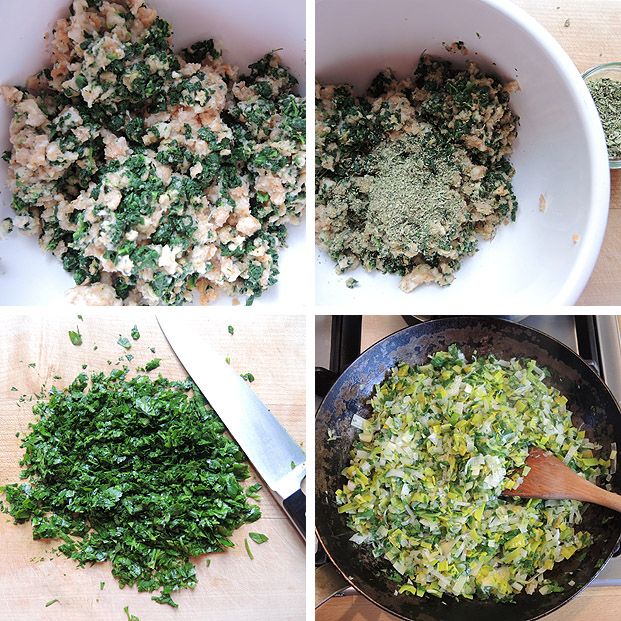 In a large bowl mix the meats, eggs, spinach-bread mixture, leek mixture and spices. Use your clean hands to mix everything thoroughly and set aside.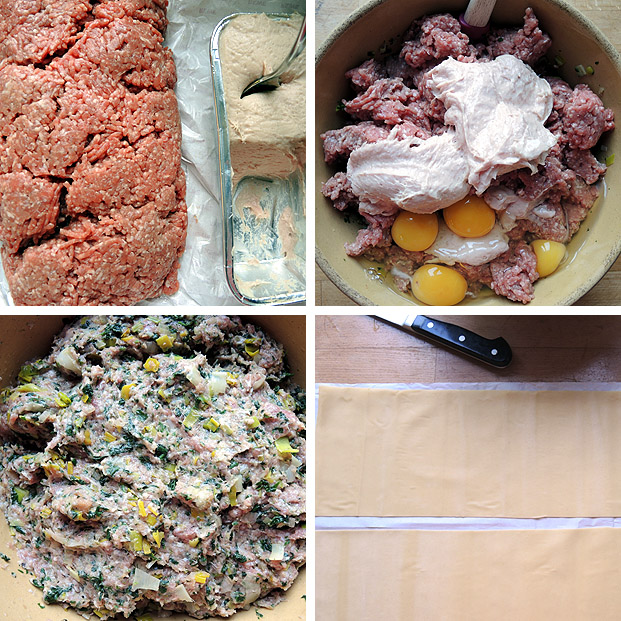 Divide your pasta dough into 10 pieces and roll them out into 8″ by 24″ strips. If you use premade dough (lucky you) you can skip this of course. Eyeball about the middle of the strip lengthwise and set 6 dollups (3 tbsp approx.) of meat mixture next to the imagined middle line, see pics. Brush the reserved egg white all around the meat mixture and fold the second half over the meat, press down to close the seams.Use a pasta cutter or a knife to seperate the maultaschen into 6 individual pieces. Try to get rid of any air bubbles by pressing them out as you  close the sides as well. Repeat with remaining dough and meat mixture until all is gone.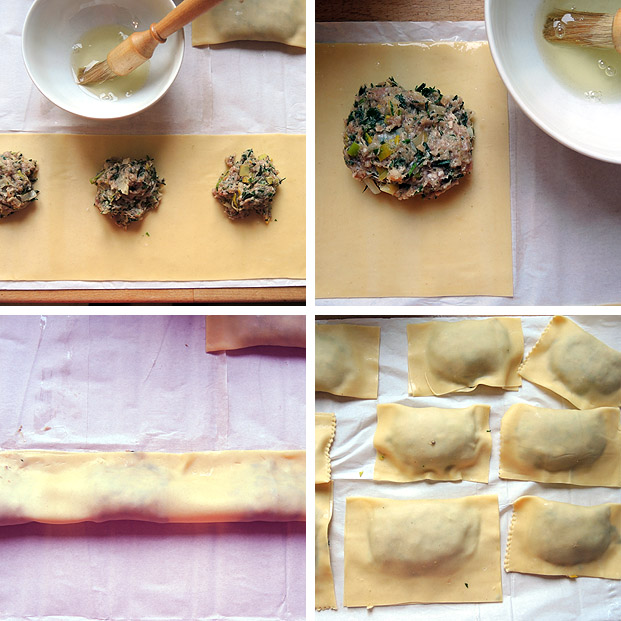 Bring a large pot of water to a boil and salt generously. Add 4-6 Maultaschen at a time and simmer (at medium low heat) for 12-14 minutes. Remove with a slotted spoon, keep in a warm spot (bowl in a preheated oven for example) and continue cooking the rest of the Maultaschen.
To serve put 2 Maultaschen into a preheated serving bowl, ladle desired amount of broth over them and sprinkle with chives.
You can serve swabian potato salad on the side, or, get this: put a spoon full of salad (!) into your Maultaschen broth and eat with the Maultaschen (the real connaisseur way 😉  )
Enjoy!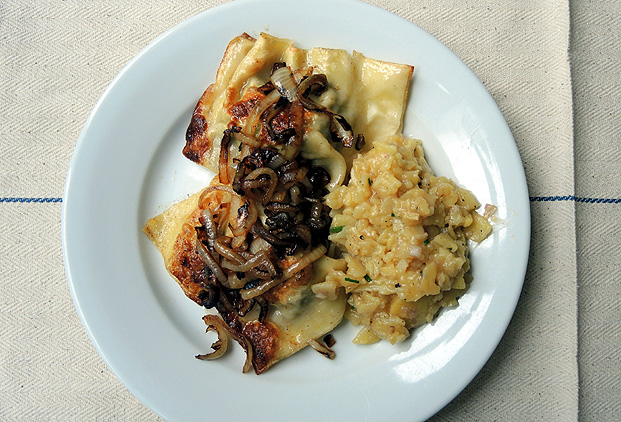 This picture shows the "geschmälzt" way – pan fried then topped with browned onion and a side of potato salad, yum!