Twelve cloves of garlic are sautéed in olive oil until golden brown – that sounds like a lot of garlic.
The taste mellows once the garlic has completely melted into the tomato sauce.  It's what gives the sauce a sweet, nutty flavor and sublimely creamy texture.
This dish is an old standard in our house, that is frequently cooked when nothing else is around – it can be cooked using only pantry staples.
The original recipe is from my all time favourite Italian cookbook: Verdura, by Viana la Place.
Diesmal auf Englisch: tierfreitag Nummer 6, mehr Info dazu hier.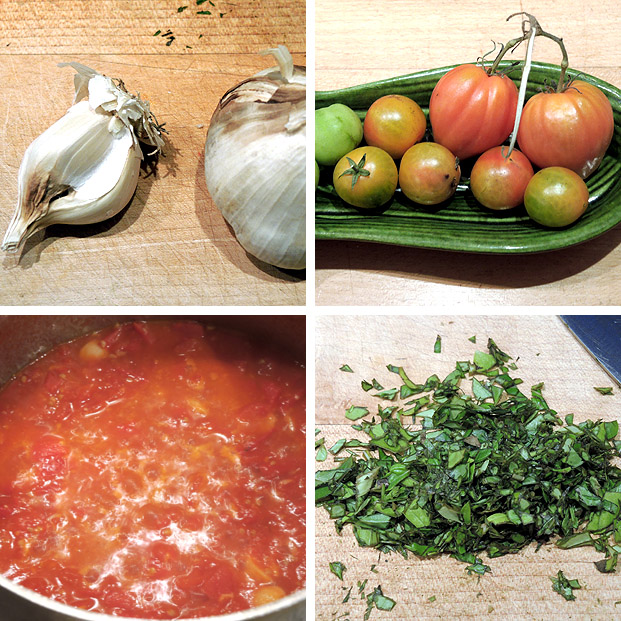 warum ist dieser Beitrag in Englisch?  Und hier die Umrechnungshilfen)

serves 4, vegetarian
4 tbsp    extra-virgin olive oil
12    garlic cloves, peeled and lightly crushed
1 lb    roma tomatos, coarsely chopped, juice reserved
or
1    28-ounce can imported Italian tomatos, coarsely chopped, juice reserved
salt and freshly ground black pepper to taste
Small handful of chopped basil, optional
or
small handful of capers, optional
1    pound imported dried penne or similar pasta shape
Place the olive oil and the garlic cloves in a medium sauté pan.  Cook over medium-low heat until the garlic is soft and a light golden-brown.  Stir frequently to prevent sticking and don't brown too much because garlic gets bitter easily.  Add the tomatoes and their juices, salt and pepper. Cook until a sauce forms about 25 minutes.  Add the basil or capers during the last minute of cooking.
Meanwhile cook the pasta in abundant salted boiling water.  Drain well and place in a pasta serving bowl.  Add the sauce, toss well and serve immediately.