Der Holunderstrauch steht in voller Blüte ab Ende Mai für ca. 3 Wochen. Wärend dieser Zeit mache ich immer den Vorrat für ein ganzes Jahr. In Schwaben wird Holunderblütensirup auch "Holdersirup" genannt.
Dieses Jahr hat mir mein Neffe Tom beim Holunderblüten sammeln geholfen. Danach haben wir zusammen die Blüten mit Zitronen und Zucker zu Sirup verarbeitet, das hat grossen Spass gemacht. Mein Rezept stammt von meinem Grossvater Eugen Herb der eine medizinal Drogerie geführt hat. Er hat auch jedes Jahr seinen "Holdersirup" eingemacht.
Bitte sammeln Sie nur Blüten die Sie eindeutig identifizieren können. Es versteht sich von selbst, dass die Holunderbäume am besten abseits von befahrenen Strassen liegen sollten. Die Blüten sind am besten wenn sie ganz geöffnet aber noch nicht verblüht sind.
Dies ist mal wieder ein Beitrag zum  tierfreitag  Nummer 29, mehr Info dazu hier.
Below see the english version of this recipe.
für 5 Liter Sirup
4,5 l    Wasser
3 kg    Zucker
4    Zitronen, Saft ausgepresst, Schalen aufbewahrt (Bio ist am Besten)
90 g    Zitronensäure
40-50    Holunderblütendolden, in voller Blüte
In einem grossen Topf das Wasser mit dem Zucker erhitzen und unter rühren vollständig auflösen, etwas abkühlen lassen. Den frisch gepressten Zitronensaft und die Zitronensäure dazugeben und gut vermischen, komplett abkühlen lassen.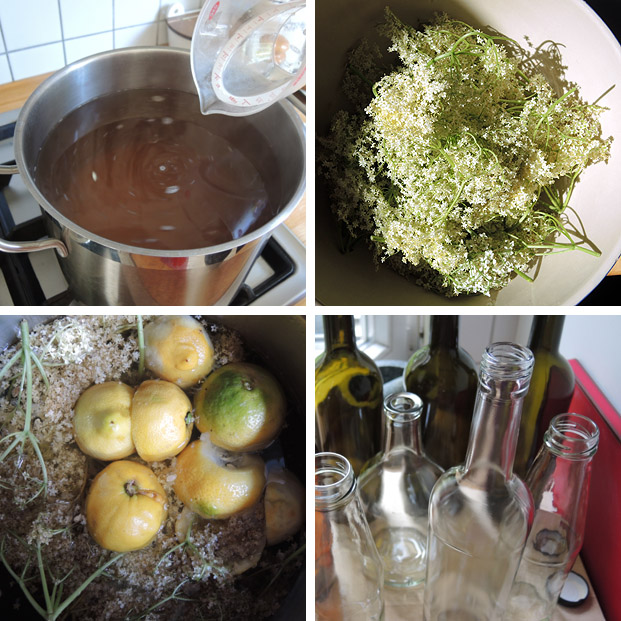 Die verlesenen Holunderblüten (Käfer und braune Stellen entfernen) und die ausgepressten Zitronenschalen in einer grossen Schüssel mit dem erkalteten Sirupgemisch übergiessen. 24  (oder bis zu 48) Stunden durchziehen lassen.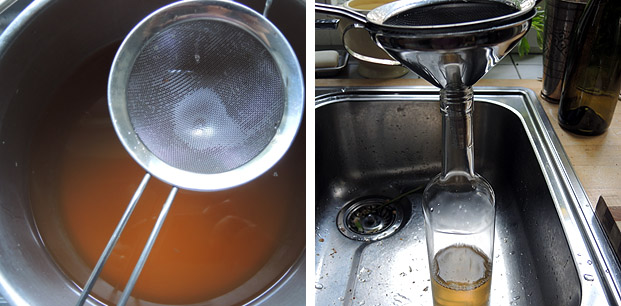 Den Sirup durch ein Sieb und einen Trichter in vorher sterilisierte Flaschen geben (es ist sehr wichtig dass die Flaschen mit heissem Seifenwasser ausgewaschen sind, damit der Sirup auch haltbar bleibt und nicht schimmelt!). Mit ausgekochten Korken oder Gummistoppern verschliessen, und an einem kühlen und dunklen Ort aufbewahren.
Zum servieren im Verhältnis 1:5 (oder je nach belieben auch anders) mit Mineralwasser oder Sekt verdünnen.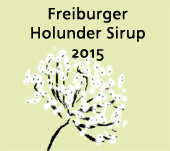 English Version
This is my grandfathers' recipe. The holunder (elder flower) bush flowers in late May for about 3 weeks. This is the time to make your yearly supply. It's a refreshing and addicting drink.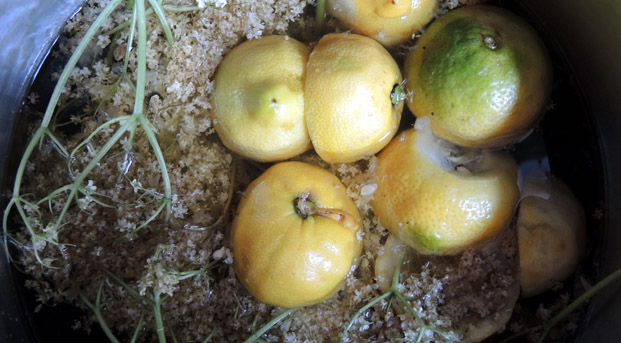 90    grams citric acid (in powder form)
6    pounds sugar
4,5    liters water
Juice of 4 lemons, save the rind and add to the bowl with the macerating flowers
40 to 50    holunder blossoms in full bloom
In a large pot, heat the water and stir in the sugar until completely dissolved. Add the lemon juice and citric acid to the mixture and combine. In a large glass vessel or similar holding apparatus pour the lukewarm syrup over the clean flower blossoms. Allow to stand overnight for at least 24 hours, but no more than 48 hours.
Strain the syrup through cheesecloth into storage bottles, make sure they are sterilized. Cork the bottles and store in a cool dark place until ready to use.
To serve, dilute with mineral water or tap water in a ratio of 1 to 5 or to taste. Mineral water with gas (Sprudel) works best!