This recipe was copied from the salad chef at Zuni Cafe in San Francisco (circa 1982).  Last time we checked at Zuni, they were no longer using this recipe.  It is a classic version with no regards to people who might not like anchovies or raw eggs. So if thats you, please look elsewhere.
Why is this in English?
1 head romaine lettuce
3-4 anchovies, with oil, finely chopped
1 egg yolk
1 tsp worcestershire sauce
1 tbsp balsamic vinegar
1/4 tsp dry mustard
2 cloves garlic, peeled and finely chopped
salt and freshly ground black pepper to taste
60-90 ml olive oil
optional: freshly grated parmesan cheese
1/2 loaf of white bread (300 g) cubed in 1 cm pieces

Detach the leaves from the core. Wash and dry well. Tear the leaves into bite-sized pieces and place in a salad bowl. In a separate bowl, mix all ingredients with a whisk excluding the olive oil. Slowly whisk in the oil until a viscose consistency is achieved.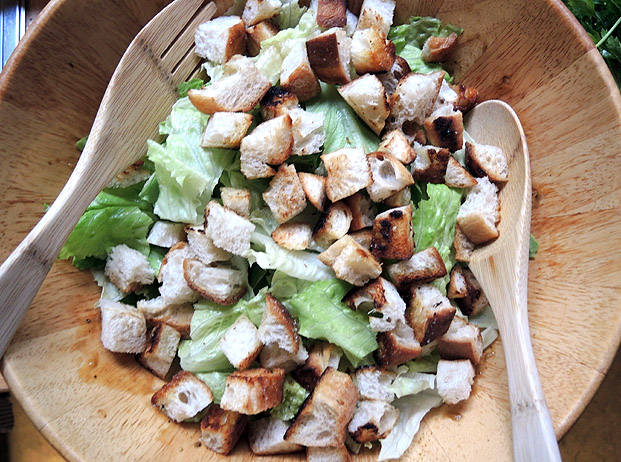 In an iron fry pan heat two tablespoons of olive oil and fry the bread cubes until lightly browned, sprinkle with a little bit of salt and set aside. Toss dressing with romaine lettuce and parmesan cheese if using. Add bread cubes and mix in well, serve right away.