This recipe was a knock off from a dish of the same name served at "Aperto" in San Francisco (in the early 1990's), prepared by a chef named Jesse James.  It is a powerful pasta dish, rich in flavors, robust and lively.  Bolt the serving bowls down to the table or it might run away.
Why is this in english?
4 Portionen
1/4    pound pancetta or smoked bacon, sliced in thin strips
1    medium yellow onion, diced fine
6    large cloves garlic, cut into thin slivers
10    Italian plum tomatoes, peeled, seeded, or canned variety (28 oz),coarsely chopped
1/2   cup white wine
3    jalapeño peppers, seeded and sliced into 1/8-inch rings
2    large handful arugala, cleaned
4    tablespoons butter
Freshly ground pepper to taste
1    pound fresh linguine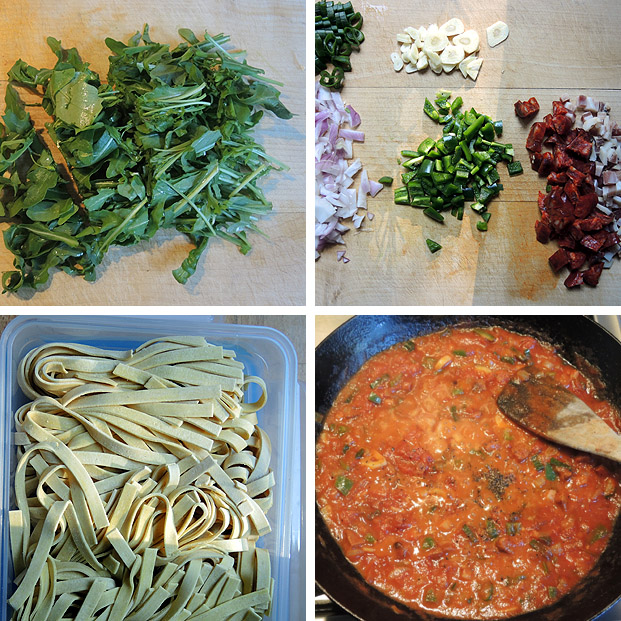 In a large skillet, fry the pancetta/bacon over medium-high heat in its' own releasing fat, about 5 minutes, until lightly browned. Add the onion and garlic. Continue cooking until the onion is translucent, about 5 more minutes.
Add the tomatoes and jalapeño pepper slices, reduce the heat to simmer and cook until a sauce forms, about 10 minutes. Add the wine and pepper and continue simmering, about 5 minutes. Add the arugula and cook until wilted, but still green, about 3 minutes. Add the butter, stir to incorporate, and turn off the heat. The sauce should be liquid, but not runny. Meanwhile cook the pasta in salted boiling water until al dente. Drain the pasta, and combine with the sauce in the skillet. Serve immediately and enjoy!