Da die Grillsaison langsam Fahrt aufnimmt, hier ein wichtiges Grundrezept.
Im Handel gibt es meist entweder üble Lätschbrötchen (soll angeblich echt amerikanisch sein, der Grundtenor: die wissen eh nicht was gutes Brot ist…) oder harte Wecken vom Bäcker (mit krachender Kruste, gut fürs Frühstück und zum Zähneausbeissen).
Nix für mich. Ein richtiges Hamburgerbrötchen muss sich geschmacklich im Hintergrund halten aber nicht langweilig sein. Ausserdem nicht zu hart aber stabil genug, dass es nicht zerfällt. Und es sollte einfach herzustellen sein, am allerwichtigsten aber: es muss gut(!) schmecken! Ist das denn so schwer? Nein ist es nicht.
PS: Wer bis zum Schluss mitliest kriegt als Belohnung den "wonder bread joke" geliefert….

für 6 Stück, vegetarisch
für die Brötchen:
330 g    Mehl, meines war Dinkelmehl, Weizen geht natürlich auch
100 g    Parmesan, frisch gerieben
1 TL    Salz
1 EL    Zucker
2 1/2 TL    Trockenbackhefe
4 EL    weiche Butter
1    grosses Ei
150-180 ml    lauwarmes Wasser
zum bestreichen:
1    Eiweiss
2 TL    Sesamsaat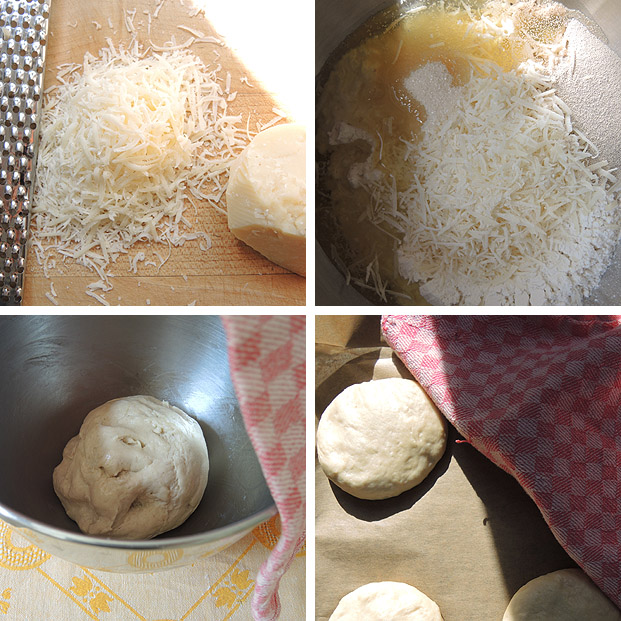 Alle Zutaten für die Brötchen in eine grosse Schüssel (oder Küchenmixer wenn vorhanden) geben, beim Wasser erst die kleinere Menge zugeben und wenn nötig mehr dazu. Verkneten bis ein zusammenhängender Teig entsteht. Eine Schüssel mit Butterpapier ( Einwickelpapier der Butter mit Butterresten dran oder 1 EL Öl) einfetten und den Teig darin zugedeckt etwa 1 Stunde an einem warmen, zugfreinen Platz gehen lassen. Er sollte merklich aufgegangen sein, sonst noch 1/2 Stunde zugeben.
Den aufgegangenen Teig in 6 gleich grosse Stücke aufteilen und mit ausreichend Abstand auf ein mit Backpapier belegtes Blech legen. Dabei den Teig erst zu Kugeln formen, dann etwas flach drücken.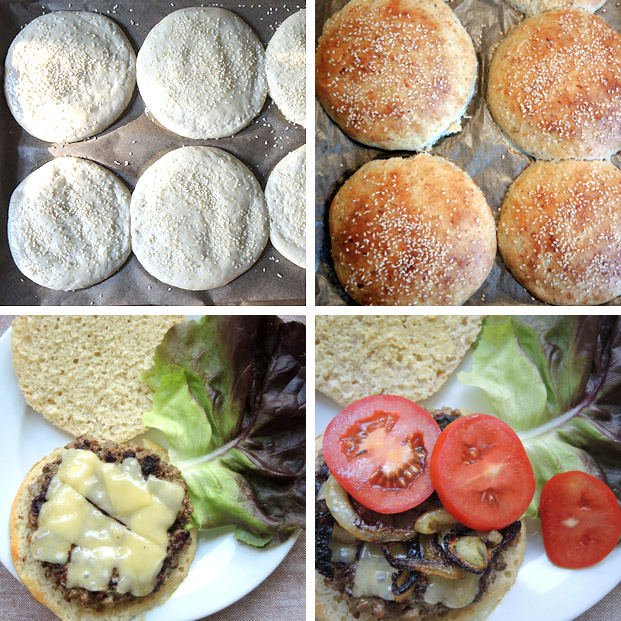 Noch einmal ca. 60 Minuten gehen lassen bis die Brötchen schön aufgegangen sind. Den Backofen auf 175°C vorheizen. Die Brötchen mit dem verquirlten EIweiss (1-2 TL Wasser mit verquirlen) bestreichen und mit Sesam bestreuen.
Für ca. 20 Minuten im Ofen goldbraun backen. Auf einem Gitter komplett abkühlen lassen. Aufschneiden und mit einem Burger Ihrer Wahl belegen.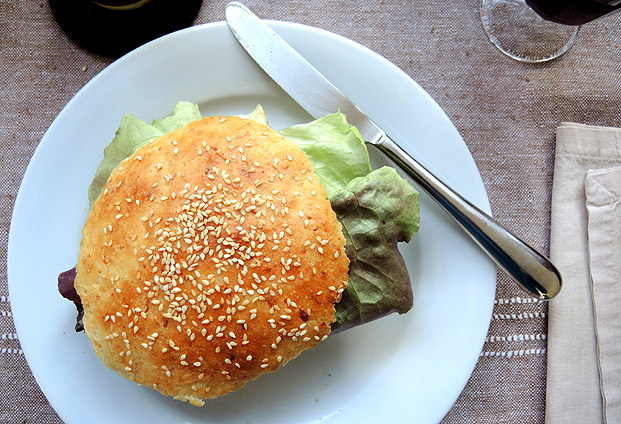 Und hier der "wonder bread joke":
After watching sales falling off for three straight months at Kentucky Fried Chicken, the Colonel calls up the Pope and asks for a favor.
The Pope says, "What can I do?"
The Colonel says, "I need you to change the daily prayer from,' Give us this day our daily bread' to' Give us this day our daily chicken'. If you do it, I'll donate 10 Million Dollars to the Vatican."
The Pope replies, "I am sorry. That is the Lord's prayer and I can not change the words." So the Colonel hangs up.
After another month of dismal sales, the Colonel panics, and calls again. "Listen your Excellency. I really need your help. I'll donate $50 million dollars if you change the words of the daily prayer from' Give us this day our daily bread' to' Give us this day our daily chicken.'"
And the Pope responds, "It is very tempting, Colonel Sanders. The church could do a lot of good with that much money. It would help us to support many charities. But, again, I must decline. It is the Lord's prayer, and I can't change the words."
So the Colonel gives up again. After two more months of terrible sales. The Colonel gets desperate. "This is my final offer, your Excellency. If you change the words of the daily prayer from,' Give us this day our daily bread' to' Give us this day our daily chicken' I will donate $100 million to the Vatican."
The Pope replies, "Let me get back to you."
So the next day, the Pope calls together all of his bishops and he says, "I have some good news and I have some bad news. The good news is that KFC is going to donate $100 million to the Vatican."
The bishops rejoice at the news. Then one asks about the bad news. The Pope replies, "The bad news is that we lost the Wonder Bread account."