This very simple risotto tastes best with freshly picked vine ripened tomatoes at the height of tomato season. It is so simple that you must make sure your ingredients are the highest quality you can get your hands on. Did I mention the tomatoes? Do not attempt this in January!
Serve this one with a glass of chilled white wine.
serves 4, vegetarian
1    onion, finely chopped
1/4    celery root, or 2 stalks celery, finely chopped
1    small carrot, finely chopped
1 1/2    cups arborio rice
50    grams butter
or
3 tbsp olive oil or a mixture of both
the peel of one organic lemon, freshly grated
1/4    liter white wine
3/4    liter chicken broth or vegetable broth
salt and freshly ground pepper to taste
5    large beefsteak tomatoes, or any other varietey that grows in your garden or calls out for you at the farmers market, sliced fairly coarse, I leave the seeds in and do not peel them (feel free to remove as desired)
50    grams parmesan, freshly grated
1    hand full coarsely chopped basil leaves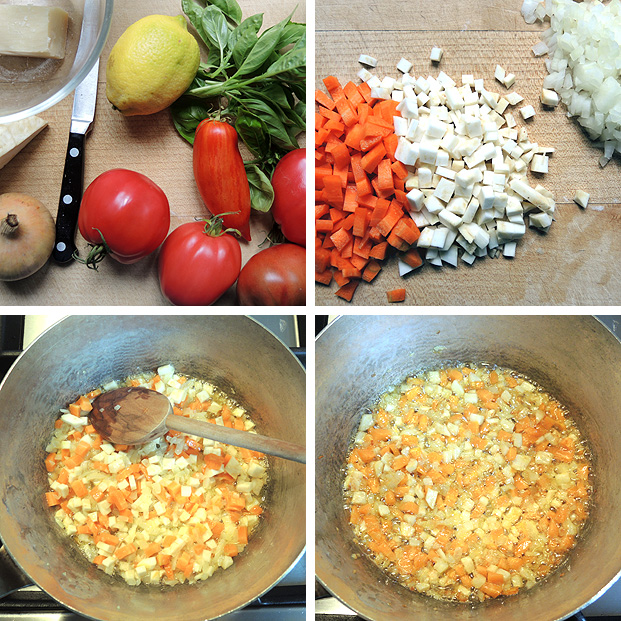 Sauté onion, celery and carrot in butter until onions are translucent and all are soft with golden edges, for about 15 minutes, this is called making a soffritto. Add rice and cook for an additional 5 minutes until rice is well coated. Meanwhile, in a small pot, heat chicken broth.
Add the grated lemon peel and white wine to the rice mixture and cook down until the liquid is nearly evaporated.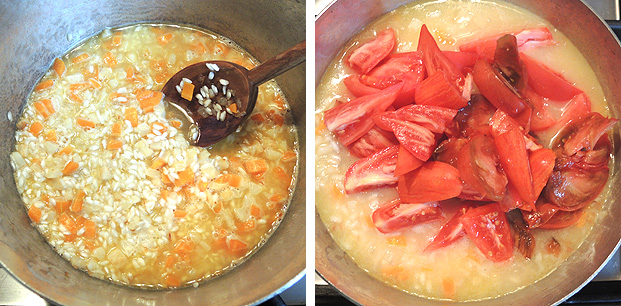 With a ladle add the hot chicken broth one ladle at a time until all the chicken broth has been absorbed. Keep the rice moist and stir often. Add salt and pepper to taste and half of the parmesan cheese and mix well. Then carefully add the tomatoe slices and cook over low heat for 5 more minutes, to let the tomatoes melt into the rice.
Serve with the rest of the parmesan and the shredded basil on top of the risotto.