It is just about that time of the year again – turkey time!
Brining a Turkey makes for a very moist and succulent bird. It takes about 24 hours to brine a turkey in a salted and spiced brine. You can store the turkey in your fridge or in a protected spot outdoors if the temperature is cold enough (but not too cold, don't freeze your turkey) For me my front porch works well.
I have never tried brining before, but have always wanted to, so here goes…
btw: this is not so much a recipe on how to roast a turkey – it gives the steps before you roast it.
I will follow this post with a recipe of my favourite stuffing and roasting method (and my friend Monis too 🙂  ) for more on turkey see my turkey tipps here
Note to my german readers: Falls Ihr Fragen habt, könnt Ihr die Übersetzungsfunktion in der rechten Menüleiste nutzen und euch darüber schlapp lachen, oder einfach im Kommentarbereich Fragen stellen.
Makes enough brine for one 18- to 20-pound turkey
7 quarts (28 cups) water
1 1/2 cups coarse salt
6 bay leaves
2 tablespoons whole coriander seeds
1 tablespoon dried juniper berries
2 tablespoons whole black peppercorns
1 tablespoon fennel seeds
1 teaspoon black or brown mustard seeds
1 fresh whole turkey (18 to 20 pounds), patted dry, neck and giblets reserved for stock, liver reserved for stuffing
1 bottle dry Riesling
2 medium onions, thinly sliced
6 garlic cloves, crushed
1 bunch fresh thyme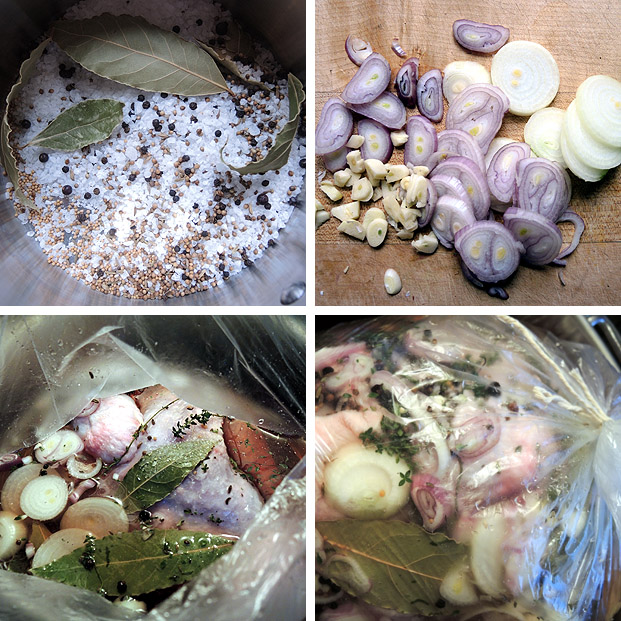 One day before roasting the turkey, bring 1 quart water, the salt, bay leaves, and all the spices to a simmer, stirring until salt has dissolved. Let cool for 15 minutes.
Line a large stock pot with a big enough brining bag to fit your turkey. Place turkey in bag. Add cooled salt mixture, remaining 6 quarts water, and the other ingredients.
Tie bag at the top and make sure all of your turkey is covered in brine. If the turkey is not submerged, weight it with a plate. Refrigerate (or keep in a cool place) for 24 hours, flipping turkey once.
Fill the space around the bagged turkey in your stock pot with ice, replenishing as necessary to keep it at about 40 degrees F.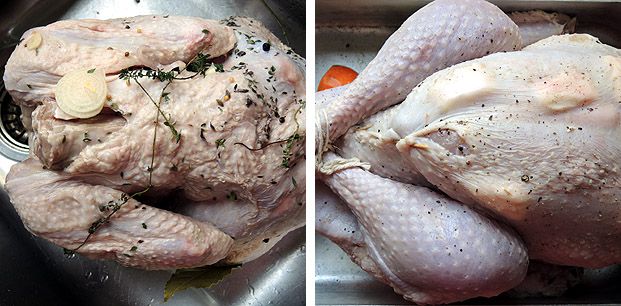 Remove turkey from brine one hour before you're ready to roast it, and pat it dry inside and out. Discard brining liquid. Let turkey stand for up to 1 hour before roasting it to your preferred recipe's specifications.