A late summer tomato risotto with fresh, roasted and pureed tomatos –
let's have it all, it's peak tomato season!
Since I grow my own tomatos – heirlooms at that – I am always on the lookout for new tomato recipes. Here 1/3 of the tomatos get roasted, inspired by this technique at 101 cookbooks.
Another 1/3 tomatos (roma or similar ones are good here) are cored then blended into a fine puree. Finally the rest of the tomatos, I used mostly cherry, are coarsly chopped and added toward the end of the cooking time. Feel free to experiment with the kind of tomatos you find on the market or grow in your garden.
serves  4, vegetarian    (warum ist dieser Beitrag in Englisch?)

2 + 1-2 + 2    tbsp olive oil
3 tbsp    coarsely chopped arugula for serving
1 1/2 cups / 300 g    arborio rice
1    glas white wine, warmed in a small pan on the stove
1 cup    broth or water, approximately see instructions below
1    bunch scallions, white part in 1inch segments, the green bits in small rings
2    stalks celery, chopped finely
5    garclic clove, in thin slices
2 lb   mixed heirloom tomatos, 1/3 oven rosted, 1/3 coarsely chopped,1/3 mixed in a blender (I used roma, other would work also)
salt and freshly ground pepper to taste
1 cup    parmesan, freshly grated, plus more for serving if desired
For the oven roasted tomatos:
slice the tomatos into 1/4 inch thick slices and place on a rimmed baking sheet on which you have layed a piece of baking paper. Drizzle with olive oil and salt lightly. Bake at 350°F (200°C) for about one hour or until the most of liquid has evaporated and the tomato slices seem somewhat dry (see also here). Coarsely tear apart bigger pieces and set aside.
For the "tomato broth":
In a blender mix the tomatos and 1 (or up to 2) cups of broth or water (plus a tsp of salt if using water) to make 4 cups "tomato broth"
In a pan slowly heat the broth and keep warm on the side.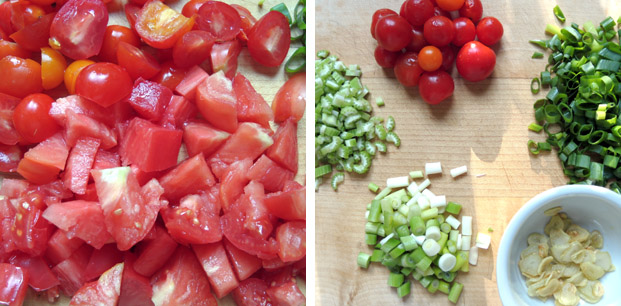 In a pan big enough to make your risotto heat 2 tbsp of oil and fry your garlic slices until lightly golden colored (be carful not to brown them too much, they get bitter) Remove garlic chips to a bowl leaving the oil behind and set aside.
Add the white onion pieces to the oil (adding more oil if needed) and cook at medium heat until translucent. Add the celery and cook at medium low heat for about 15 minutes until soft. Remove both from pan and set aside. Now add your rice (adding more oil if needed) and also cook at medium low heat until the rice kernels are translucent about 10 minutes. Add the reserved oninon mixture and the warmed wine and stir well. Let the rice absorb the wine completely then add a ladle of the "tomato broth".
Keep adding tomato broth one ladle at a time, wait for it to be absobed before adding more.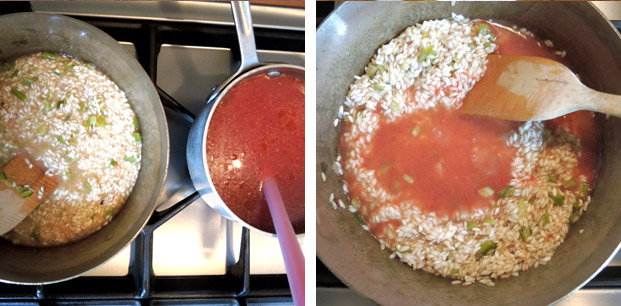 Just before the kernels are cooked (they should still have a slight bite to them but not be hard any more) add the chopped tomatos, green onion rings and parmesan and stir well. Heat for a moment then turn off and let rest for 5 minutes covered with a lid.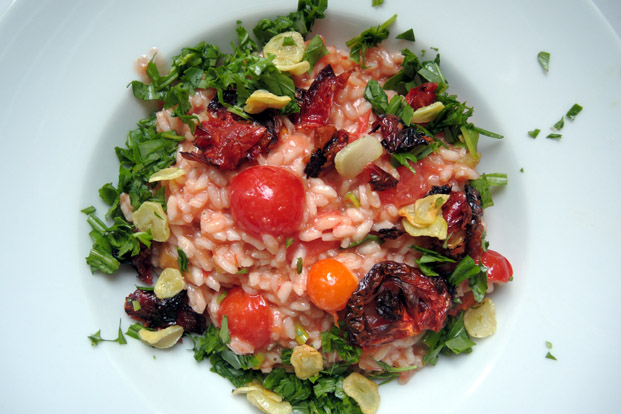 To serve, ladle the risotto in the middle of your serving plate, sprinkle with garlic chips, oven roasted tomato pieces and the chopped arugula and serve with freshly ground pepper and parmesan cheese if your guests want it. A light white wine spritzer (1/2 wine 1/2 sparkling water = weissweinschorle in german) goes really well with it.